Good news! Warm congratulations to Yuesheng Paper (China) Co., Ltd. for winning the national "high-tech enterprise" recognition
2021 is a New Year, and Yuesheng Group has also embarked on a new journey. At the beginning of the New Year, Yuesheng Group Jiaxing factory - Yuesheng Paper (China) Co., Ltd. came the good news: with professional R & D team, strong technical strength, continuous innovation ability, scientific enterprise management, the company was successfully identified as a national high-tech enterprise. On January 20, 2021, the company received the certificate of "High-tech Enterprise" jointly issued by Zhejiang Provincial Department of Science and Technology, Zhejiang Provincial Department of Finance, and Zhejiang Provincial Tax Bureau of the State Administration of Taxation, marking that the company has been affirmed and recognized by relevant state departments in research and development and innovation, thus officially entering the ranks of national high-tech enterprises.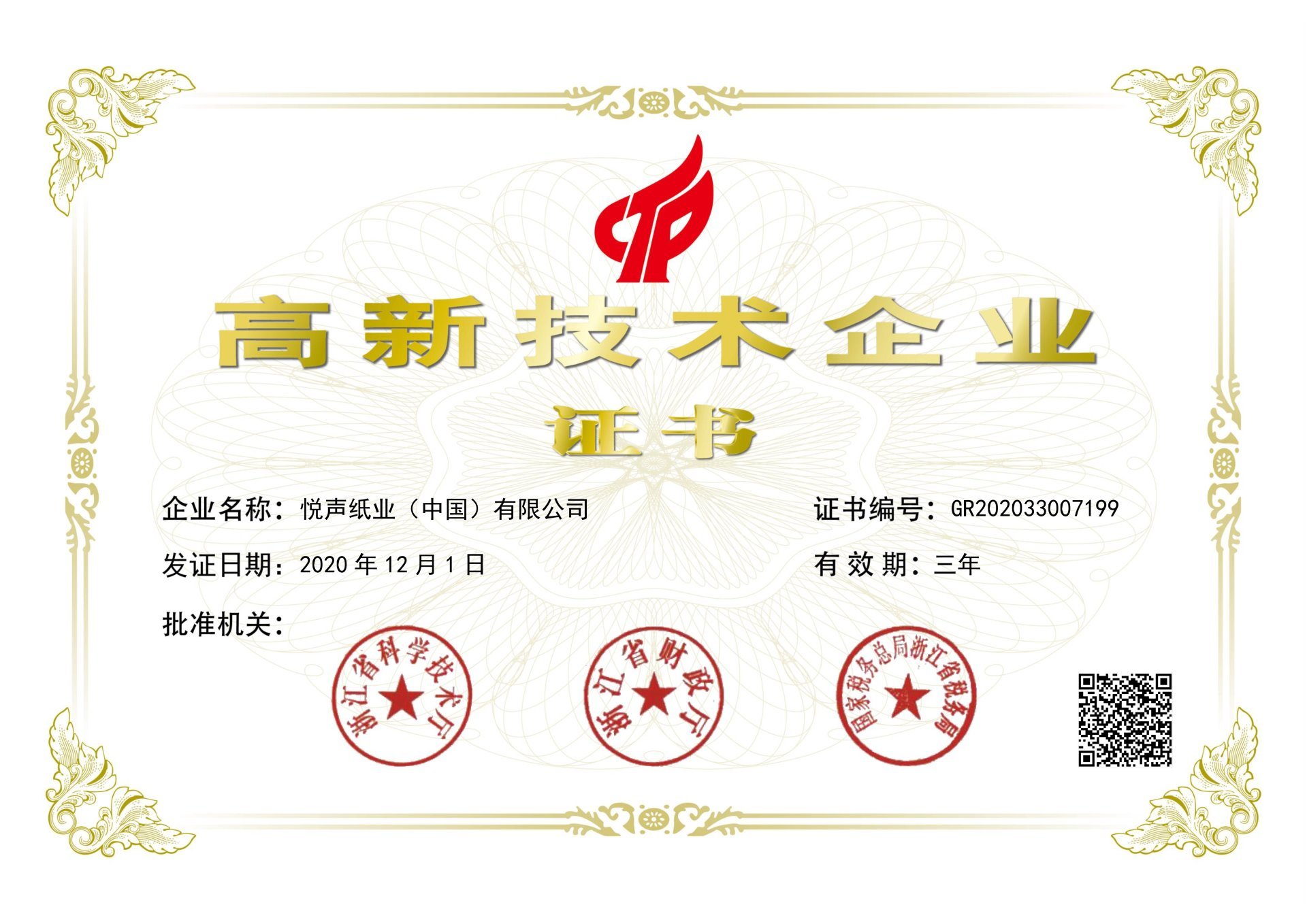 "High and new technology enterprise" is a special qualification established by the state to support and encourage the development of high and new technology enterprises, adjust the industrial structure and enhance the national economic competitiveness, and occupies a very important strategic position in the economic development of our country. Over the years, high-tech enterprises have been highly valued by governments at all levels, and a variety of policies and measures have been adopted to encourage and support the development of high-tech enterprises.

The selection conditions for the identification of high-tech enterprises are very strict and need to be evaluated layer by layer. First of all, it must be the strategic emerging industries supported by the state, including: cultural and creative industries, Internet industries, new energy industries, new generation information technology industries, biological industries, new materials industries, etc. At the same time, the conditions to be met for the identification of the qualification mainly include that the core technology must have independent intellectual property rights, the product or service belongs to the scope of high-tech fields, the ability to transform scientific and technological achievements, research and development investment, the proportion of scientific and technological talents, and growth indicators. Therefore, the identification of high-tech enterprises is a strong proof of our company's technological innovation, rapid growth and broad development prospects.
The recognition of high-tech enterprises is also a spur and incentive for the company's sustainable development. Yuesheng will, as always, adhere to the core values of "customer-centric, integrity-based, diligent and pragmatic, innovation-driven", further improve the service level, introduce outstanding talents, and pay more attention to independent innovation, protect intellectual property rights, and enhance the core competitiveness of enterprises. Give full play to the advantages and exemplary role of high-tech enterprises, and build Yuesheng Group into a benchmark enterprise in the field of art paper and cultural and educational paper products industry in China and even in the world, to provide customers with unique value products and services.